March 2, 2013
I finally upgraded to a smart phone about 2 months ago. I'm still getting used to the added cost, BUT it is so nice to have! My main love is the camera/video recorder on the phone … I always have a camera on me, without having to remember our small point & shoot. So when she does something funny, cute or adorable, like climbing in a friend's doll cradle at a play-date, I can capture that moment. May not be the best picture in the world, but it is a picture and I have it!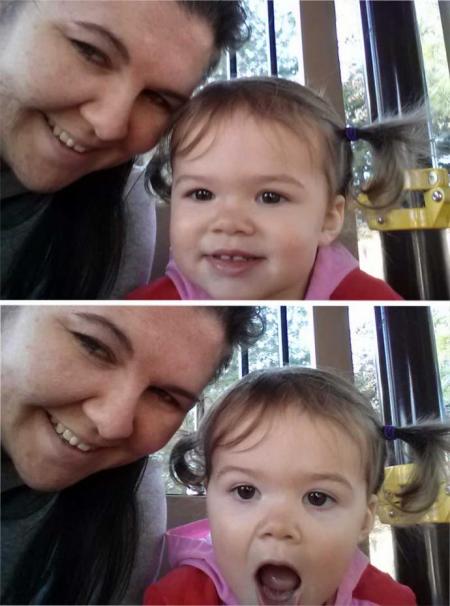 I'm also loving the "self-portrait" mode where you use the front camera on the phone and see if you're positioning the picture correctly. I've been doing "photo-booth" pictures with Abby (so cute) and when she falls asleep while I rock her at night (usually when she skips her nap) I've been taking pictures too (so precious words cannot express how much l love these ones).
It has also become a crutch. Getting Abby into her car-seat lately has been a struggle. The two things that sometimes help are 1) stickers & 2) cell phone. Lynn loaded up our digital copy of Monster's Inc (her all-time favorite movie) on both our phones so as a last resort we offer her to play her "bubbles" game on one of our phones, or watch Monster's. Just last month we drove to & from San Francisco for a Go-See and after 2 hours in the car (with a 30 minute nap) and about 90 minutes playing outside of the car waiting for our turn, she wasn't so happy to be back in the car. And we were stuck in traffic. Once we got to the Bay Bridge & I knew the rest of the route home, I gave her my phone and she was happy for the remaining 2 hour drive. Sometimes she presses the home button and then gets super excited because she sees herself on our phone wallpaper and demands "more Abby". She really enjoys looking at pictures of herself, and she LOVES watching videos of herself.